Eyebrow Tattoo Pen | Microblading Eyebrow Pen with a Micro-Fork Tip Applicator Creates Natural Looking Brows Effortlessly and Stays on All Day with
Microblading Eyebrow Pencil
Microblading Eyebrow Pen Waterproof Fork Tip Eyebrow Tattoo Pencil Long Lasting Professional Fine Sketch Liquid Eye Brow Pencil. Why are we extremely confident that our Eyebrow Tattoo Pen is the RIGHT one for you?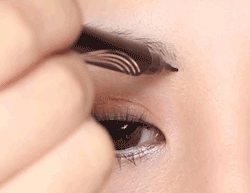 Our Eyebrow Tattoo Pen, Microblading Eyebrow Pen has the following advantages:
1. Super easy to use and save your time.
2. Give you the look of microbladed brows for less and save your money.
3. Like your natural brows and make you look more attractive.❤
4. Offer Worry-free warranty and make you buy with confidence.
These benefits encourage a large number of make up lovers to choose and stay loyal to the iMethod Eyebrow Tattoo Pen.
Product Description:
Chestnut / Deep Dark Brown – Chestnut is a Deep dark brown. It is used for dark brown or black hair. The Light Brown is used for Brunettes or Medium Brown Hair.

JUST LIKE YOUR REAL BROWS & EASY TO USE – The tiny fork likes the brush. Angle fork tip across brows and draw hair-like strokes from anchor to tail. Repeat as desired for added intensity. It draws your eyebrows resembling 3D natural real hair.

WATERPROOF & EASY TO WIPE -The liquid is waterproof and easy to rub off. Do not rub your eyebrow too hard.

When NOT in use, Keep the cap TIGHT and store it HORIZONTALLY to PREVENT DRY! Due to the characteristic of the tip, when in use, upside down and let the tip receive liquid. If it dries, please clean the tip by tissue and shake it gently before using.

100% SATISFACTION GUARANTEE – We are the AUTHENTIC SELLER, offer a worry-free LIFETIME warranty and friendly customer service. You will be able to use the eyebrow pen several times to determine if they are right for you.

Item Type: Eyebrow Pen | Weight: 5 g / 0.01 lbs | Package Includes: 1 x Pc