Are you embarrassed to smile, even in front of those you cherish the most? Ensure your perfect smile by getting multiple pairs!
Our EXCLUSIVE Snap On Teeth Veneers will give you a million-dollar smile instantly. This removable and 100% adjustable smile teeth veneer gives you the look of perfect teeth without going to the dentist. Traditional fake teeth cost $1,000s. Now, they don't have to.
Our USA made, High Quality Instant Perfect Smile Veneers, As Seen on TV, is made with micro-thin Polypropylene that is super comfortable and allows for a custom fit. Simply soak in the veneer in hot water and press into your existing teeth.
INSTANT SMILE SNAP ON TEETH VENEERS UPPERS & LOWERS Exclusively BY "Snap On Smile Veneers"
Special custom made mold works to disguise crooked, stained, missing and gapped teeth. Is a great alternative to expensive braces.
Beautiful dentures make you more smile
A removable, reusable temporary smile device.
Size: 7×5 CM
Material: Environmental protection PP+ food grade silica gel
Please clean after use
SNAP ON SMILE VENEERS FEATURES
Instantly Transform Your Insecure Smile Into a Confident Smile!!  Traditional methods take months or even years to achieve the same results. Our Aesthetic designed Fully Adjustable Snap on Smile Veneers is instant and is done from the comfort of your own home.
It is very effective. Unlike most dental procedures that can go wrong or take a few tries before getting it right, Snap-on-Smile works like a charm on the very first try.
It works for everyone. It doesn't matter if you are suffering from other medical conditions, it does not eliminate or affect your chances of having a perfect set of teeth. Snap On does not limit its usage or efficacy based on a person's medical conditions.
It Is Quick. For most dental procedures, you need to wait months and even years before you can start reaping any results of your labor. But not with Snap-on-Smile; you see instant results. Just like the name suggests, you just need to snap it on, and you are ready to rock the party.
It's Pain-Free. Not a big fan shots and needles and getting yourself drilled down? None of us are really! And with Snap-On-Smile delivered right to your door and fitted right onto your teeth without any hassles, there is no reason why you should opt for such painful dental processes anyway.
It is extremely Easy to Maintain. You don't need to visit doctors every time you want to take them off or put them back on, or would like to rub your tongue over your teeth. Just take the dental prosthetic off, brush your teeth and put it back on.
Yes, You Can Eat, Drink and Party With It On! Worried you might have to take them off every time before a quick bite or a drink out with friends? You should worry not. These prosthetics will not come in the way of your daily routine at all! You can wear them like a glove all day long. Though, it is not recommended to go to sleep with them on. So you'd just need to take them off before you go to sleep.
The right color for you is available too. One worry most people have with dental prosthetics is that they don't want them looking unnatural. Snap-On-Smile will help you find the right shade for you. You can select the right shade of white for your liking and features so that they give you that naturally white smile you've always wanted.
Easy to use and comfortable to wear
Custom Fit, One size fits all
100% Reusable Upper and lower teeth set
Give Your Loved One's the Best Version of Yourself.
You should NEVER be afraid to smile with the people you care for most. Your smile is the biggest expression of yourself, so don't hold it back anymore!
WHAT IS SNAP-ON-SMILE AND WHAT CAN IT DO FOR YOU?
Perfect Instant Snap-On-Smile are a set of prosthetics made of high-quality dental resin that snap right onto your teeth to help enhance your facial features, especially your smile. Snap-on smile is simple, easy and extremely inexpensive.

Teeth veneers are thin, custom-made shells that are placed over the front surface of teeth to improve their appearance and functionality. Veneers can be made from silicon,  porcelain or composite resin materials, and they are designed to look and feel like natural teeth.
Veneers can be used to correct a variety of dental issues, including discoloration, chipped or broken teeth, misaligned teeth, and gaps between teeth. They are a popular cosmetic dentistry option because they can provide a natural-looking, long-lasting solution to many dental problems.
HOW TO USE SNAP-ON TEETH VENEER: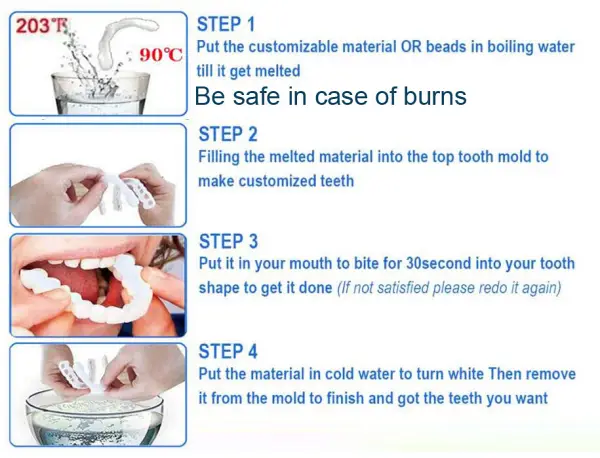 Follow a simple 4 step process to use these adjustable snap-on smile veneers –
STEP 1 – Place in Hot Water – Place teeth into a cup of hot (almost boiling) water for 1 minute. This will make them flexible and ready to custom fit.
STEP 2 – Filling the Material – Fill the Melted Adhesive material into the tooth mold to make customized teeth.
STEP 3 – Start the Impression – Using a mirror, firmly position the teeth over your existing teeth. Press them firmly against your teeth and gently pat the impression material with your thumbs behind your real teeth.
STEP 4 – Place in Cold Water – Gently ease the teeth out of your mouth after 30 seconds and set them in a glass of cold water to cool. The impression material turns white when it is hardened.
WHY YOU NEED SNAP-ON TEETH VENEER:
【Wonderful Smile】Our teeth denture helps to hide your missing, bent, stained and broken teeth. Natural tooth coloring.Improving your smile with a realistic solution, with a realistic look and feel.
【No Pain & Safe】Made from food grade material, which fits your teeth and gums perfectly and won't wear down your original teeth.No pain no shots no drilling, comfortable and painless.
【User Friendly】It can be used just after a simple cleaning, without waiting for a long time. You'll get a natural and confident smile right away.
【Suitable for Most Occasions】Whether it's a date, a job interview or a party, you can use this teeth denture to help you regain confidence and increase your charm.
Product Description:
Comfortable fit, false teeth, white
A special mold can hide crooked, stained and missing teeth.
This is a good way to replace expensive braces.
Beautiful dentures make you smile more.
Please clean after use
Packing List:
1 * Top Teeth Veneers
1 * Bottom Teeth Veneers
2 * Adhesives
Snap On Smile Veneers are one size fits all and are reusable. Includes upper and lower teeth.
IMPORTANT NOTE:
If you feel the size of the braces is too large, make the teeth uncomfortable, you can properly shorten the distance between the ends of the braces, use scissors to remove the excess. (This is an irreparable operation, please be sure to confirm and then execute).
Snap on Smile Teeth Veneers was designed to custom mold perfectly to your teeth! However, we highly recommend buying multiple pairs to ensure you get a flawless mold.
Take good care and they will last you forever.
SNAP ON VENEERS CUSTOMER'S REVIEWS