Orthopedic Toe Brace Bunion Corrector Socks – Silicone Toe Spreaders by Javsh

Are you having trouble with your big toe that's preventing you from being active? Is your self-confidence dwindling due to forefoot deformity?
Relieve pain by treating with Orthopedic Toe Bunion Corrector Socks Silicone Hallux Valgus Corrector Braces Toes Separator Feet Care Tool.  Treat and correct your bunions with this bunion brace. Stretchable so it would perfectly fit anyone and be comfortable to wear.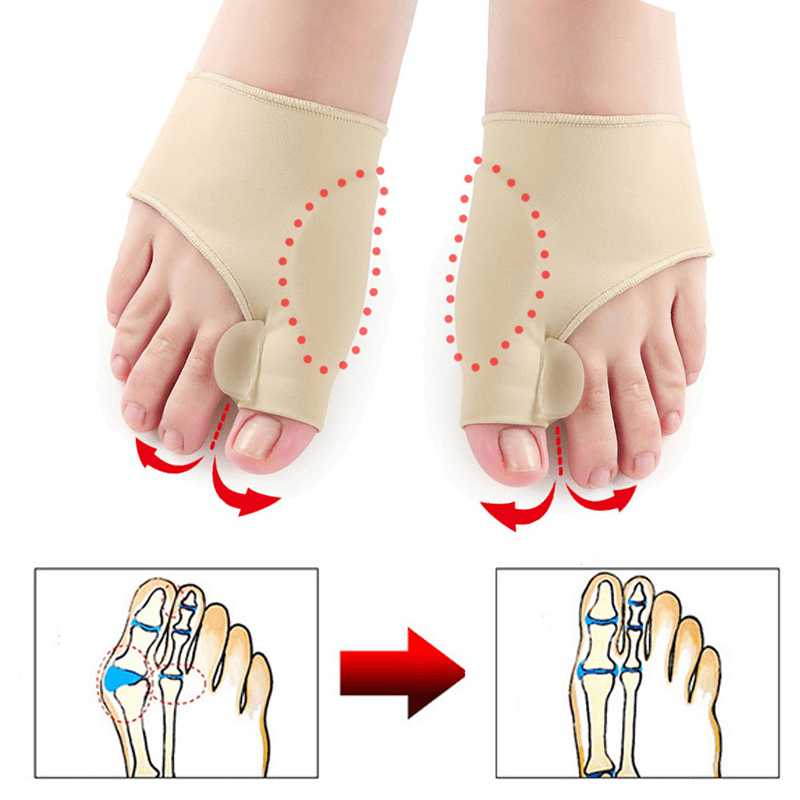 Has a gel pad for the bunion area to relieve pain as well as a big toe separator

Size: 

8.8 x 8.2 x 4.5cm

Package Material:  1 Pair (Left Foot and Right Foot) Orthopedic Toe Brace Bunion Corrector Socks 
Key Benefits:
Arch Pain

Plantar Fasciitis, Heel Pain or Spurs

Gel arch pad prevents overpronation (foot rolling inward too much), while massaging the arch

Gentle compression and comfort to arch of foot.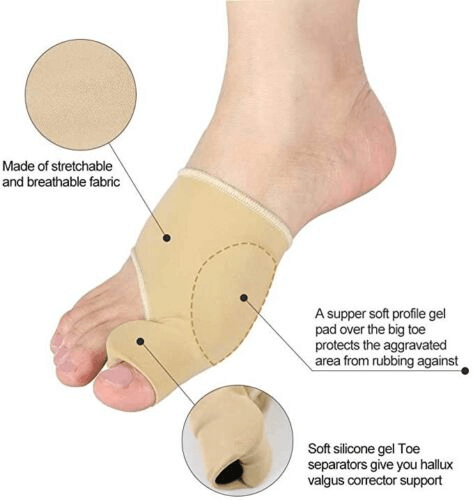 Made from High-Quality Gel to provide an effective relief

Stretchable sleeves which are suitable for the most feet.

Possible to wear it without shoes around the house or on-the-go in most shoes.

Superior comfort and support. Suitable for both Men and Women Possible for Hand-Wash and reusable

Material: Spandex Sleeves with integrated quality gel pad
Caution: Do not place the product on an open wound. If irritation, discomfort or poor circulation occurs, discontinue use and notify your physician immediately.
Bunion Brace Toe Corrector Sock
Most adult women love wearing high heels because of their beautiful and stylish designs. It makes a woman feel confident as if she could take on the world. Some women even collect different kinds of heels like stilettos, wedges, boots, platform heels, and many others. And as they say: "good shoes take you to good places". However, your favorite heels could also be giving you something other than beauty and confidence. It could also be giving bunions on both your feet!
Women who wear heels daily has a high chance of developing a bunion. Bunions happen when your big toe pushes against your next toe. Since most heels are tight and narrow, this causes the toes to be compressed together. Thus the joint of your big toe unnaturally protrudes. Treat and correct it with this bunion brace. Bring back your beautiful feet to its former glory.
Flexible and Comfortable
No matter what your shoe size is, this bunion brace would fit your feet perfectly. The bunion brace uses soft and flexible material that allows it to wrap around the user's feet with ease. The sole of the feet can be very ticklish, however, this brace won't tickle it and does not give any sort of discomfort. It is breathable and light so your blood will flow naturally. There is a soft get pad on the area of the joint where the bunion is. Also, there is a toe separator that pushes back your big toe from your other toes.
Easy to Wear and Wear-Resistant
This brace does not cover your whole feet so you still wear your favorite shoes. Moreover, it is wearable just like how easy it is to wear a sock. Since it is elastic, you won't have to worry about it not fitting. It is also wear-resistant so you can use it for a long time and walk long distances wearing this. What are you waiting for? Treat and correct those bunions now.